Getting started with STEM
The interactive 'Stemmels' board game uses different digital techniques to teach children from the 3rd grade of elementary school a problem-solving mindset. Unique to this game is that it focuses more on the journey than on the actual results.
At first glance, STEM (Science, Technology, Engineering, and Mathematics) appears to be mainly about exact science, but this is far from true. When working with STEM, it's less important whether your answer was right or wrong. What's more important is how you reached that conclusion and whether you learned something from the experience. The challenge for Cartamundi Digital was to convert this creative process into a playable game that is not just educational, but at the same time inspiring and fun. We collaborated with VAF and Technopolis to create 'De Stemmels'.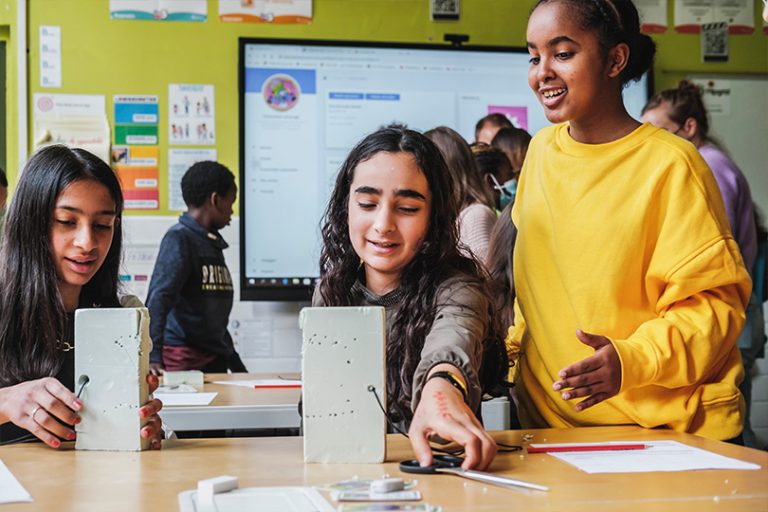 Students are in control
When playing 'De Stemmels' board game, every group of students is assigned a Stemmel to help. These are small creatures who live underneath the house of the Verboven family and who try to solve daily problems by creating constructions with materials they've collected around the house. By positioning the coding cards, the students try to navigate a route to end up in a virtual room where they can search for materials and objects. After they've collected these items in the virtual room, they can collect the physical items from their teacher. Using those items, they can attempt to create a construction to complete their mission.

Prepare less, play more
'De Stemmels' board game comes with an online portal for teachers where they can skim through several ready-made missions. They can also decide to create their own custom mission that aligns best with their students or educational topics. It's a straightforward process for a teacher to create an entire session in a couple of minutes. This way, the teacher can focus more on actually teaching without having to endlessly prepare for a STEM-related class.
The 'De Stemmels' interactive board game is available through the Stemmels webshop.
Specifications
Product category
Services