Playing cards with a focus on 'play'
As the market leader in quality playing cards, Cartamundi always takes the lead when it comes to innovation. 'Card Games by Bicycle' offers a digital experience with an eye for authenticity. The application allows you to enjoy traditional card games with friends and other card players.
'Play' was at the center of developing 'Card Games by Bicycle'. We created a digital environment that resembles the real-life experience of playing cards. We steer clear of advertisements, pay-to-win mechanics, or casino environments and focus on communication and providing a personalized experience.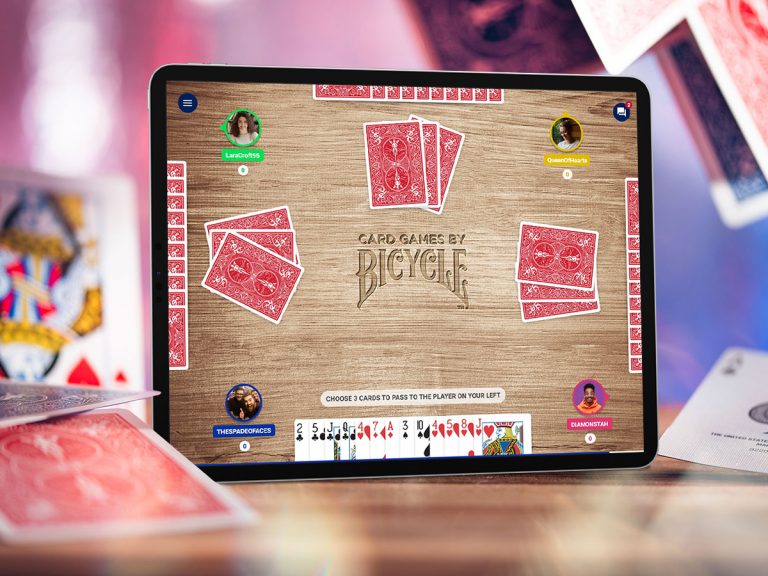 Personalize your game
The application houses several Bicycle playing card decks for you to discover. The brand is the long-term favorite of numerous players and collectors around the world and is renowned for its unparalleled quality and gorgeous artwork. Players can personalize their gaming experience by choosing their favorite deck of cards and table.

Getting together to play
To bring players as close to each other as possible, we reduced the digital distance by adding voice chat, emoticons, and phrases. Private lobbies allow you to play only with your friends, and the online leaderboards keep track of your progress for those in search of a more competitive challenge.
Apart from the vast online community, the application is an ideal solution to discover new games or sharpen your skills against bots. We're always open to suggestions from our players to optimize the application with updates, new games, and features.
'Card Games by Bicycle' is currently only available in the US, but we're looking forward to expanding to new regions.
Specifications
Product category
Services