Flemish heritage comes to life virtually
A Fox Hunt. An Expedition into the Land of Reynard is an adventurous experience course in which participating cyclists were introduced to the story of Reynard the Fox in the summer of 2018. It proved to be a fascinating mix of art, culture, nature and adventure throughout the Waasland region and Zeelandic Flanders.
The Phoebus Arts Foundation and Katoen Natie, who together aimed to introduce people of all ages to an important element of Flemish heritage, asked Cartamundi Digital to develop digital experiences to accompany this event.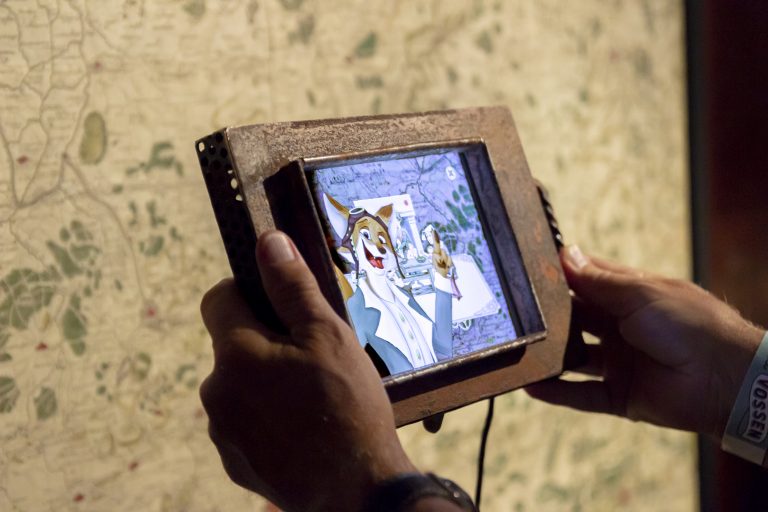 Augmented reality and facial tracking
Passing by the Mercator House, participants in the cycling route saw a number of historic maps. These maps could be brought to life as it were by scanning them with a tablet: a number of humorous animated videos appear in augmented reality, offering the viewer some interesting facts about life in the Middle Ages. Cartamundi Digital developed all the animated videos as well as the accompanying app through which they could be played.
Additionally, a photo booth was installed along the route where passers-by could have their pictures taken as a character from Reynard the Fox: King Noble the Lion, Kyward the Hare, Bruin the Bear, Isengrim the Wolf or Chanticleer the Cock. Participants had a 3D mask of the animal they had chosen superimposed on them via facial tracking. Of course, Reynard the Fox was also present on the photograph as a photobomb! The photographs were printed directly at the location on a photo strip, but could also be sent to the person's email address.
In addition to this, the participants were given a newspaper with various riddles to solve along the way: word games, visual hints and hands-on games. Once all the riddles were solved, participants were able to decipher the Reynard alphabet, in which each symbol stands for a letter from the alphabet. At the end of the game, the player in the "Treasure Chamber" had to answer a question in the Reynard alphabet. Based on the right number of correct symbols entered in the Noble machine, the player then received coins that could be exchanged for a prize. Cartamundi Digital developed the app through which the participants could answer questions and that controlled the coin dispenser.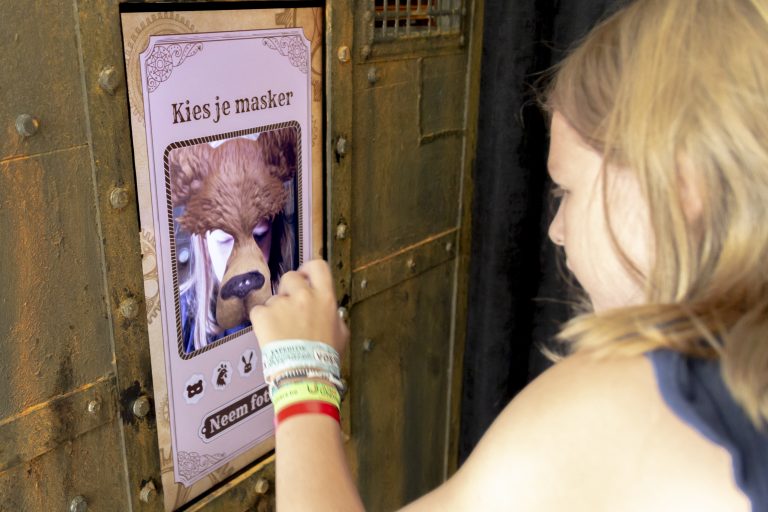 History with a modern twist
Through A Fox Hunt. An Expedition into the Land of Reynard, Cartamundi Digital provided an event set up on a grand scale with an interactive, playful twist. Together with Katoen Natie and Koeken Troef!, we put Reynard the Fox in a contemporary setting and demonstrated that the latest technology can go hand-in-hand with heritage and history.
Are you interested in discovering how our digital creativity can give your organisation or product a new impetus? Don't hesitate to contact us!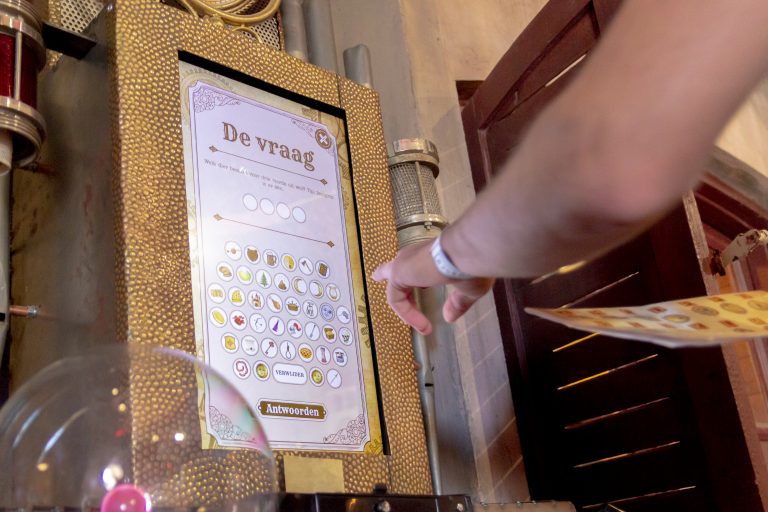 Specifications
Product category
Services